Riverlinks Art Wall
The Riverlinks Art Wall continues the fine tradition of the Drawing Wall which Shepparton Art Museum curated for many years.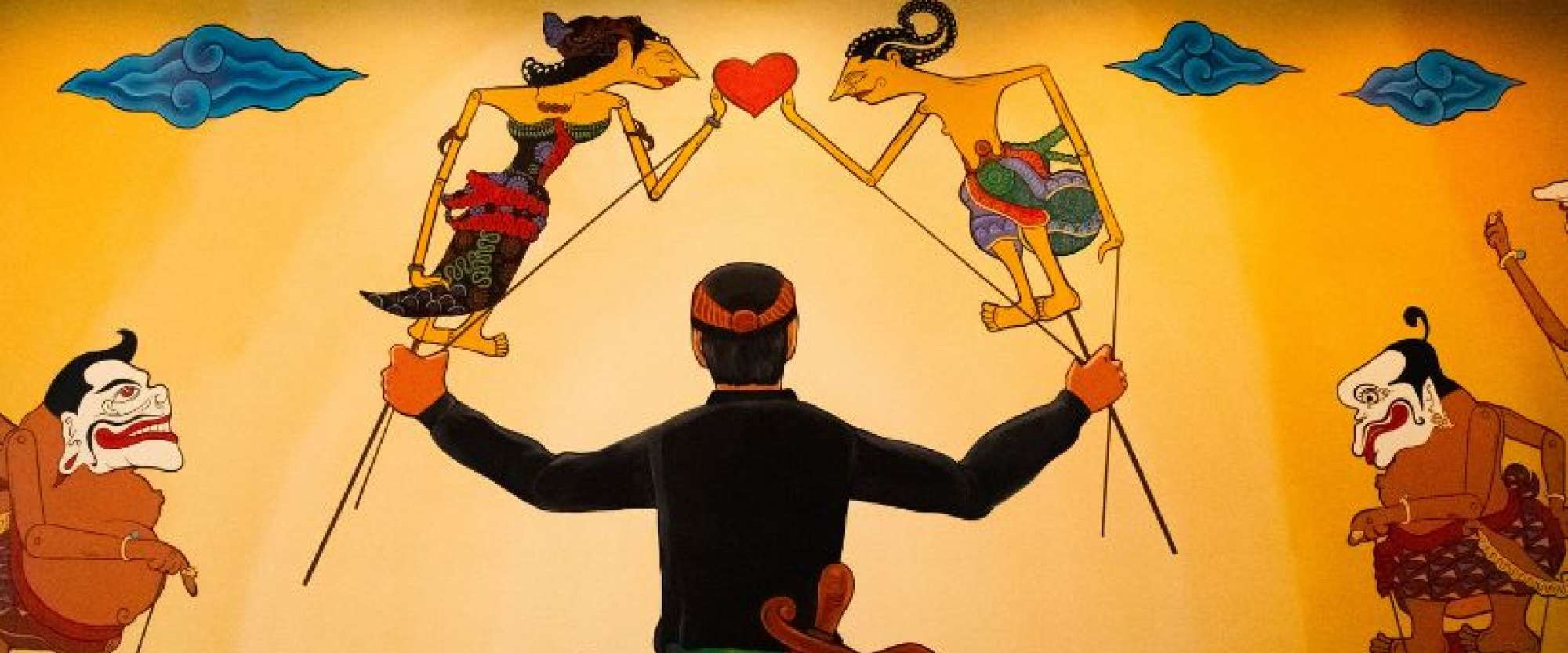 The long foyer wall at Riverlinks Eastbank is transformed into an inspiring mural for the enjoyment of all visitors to the venue.
The themes of the mural are aligned with activities or programs at Riverlinks and will remain on display for several months.
The works are painted by local artists and curated by Riverlinks.
Current display
JAVANESE SHADOW PUPPETS - by Christiano Design Studio
The Painting
The characters are; Antasena, Gareng, Semar, Srikandi, Arjuna, Bagong, and Petruk. The Dhalang at the centre of the show is the story teller who moves the puppets according to the story theme on the stage.
This story is about the love between Arjuna and Srikandi (the middle two characters) and also love for family between Arjuna and Antasena (Arjuna's nephew).
The four black characters called "Punakawan" are; Gareng, Semar, Bagong and Petruk. These characters are good people who always remind Arjuna to do good, be a kind friend and care for others; they are always there when Arjuna get lonely.
Javanese Shadow Puppets
Developed in the 10th century, classical Javanese puppet drama "Wayang Kulit" uses the shadows thrown by puppets onto a translucent screen. The puppets are manipulated by rods operated by skilful puppeteers called "Dhalang".
Wayang Kulit is a complete art form, combining deep spirituality, entertaining storytelling, extraordinary musicality and can include philosophical messages, political commentary as well as much humour.
Artist biography
Christiano Dery Theodorus hails from Semarang City in Centre Java, Indonesia and has lived in Shepparton since 2016. He has been drawing all his life and obtained a Bachelor of Graphic Design from Universitas Dian Nuswantoro (UDINUS) in 2016. His first painting as a ten year old was of Sydney Opera House, a beautiful coincidence as he is now a permanent resident of Australia – although he has not yet visited the Opera House!
Dery has created many murals, designs and decorations for buildings as well as weddings, birthdays and other festive occasions and his work can be seen in several homes, schools and businesses across the region.