School Visits
Expanding young minds with theatre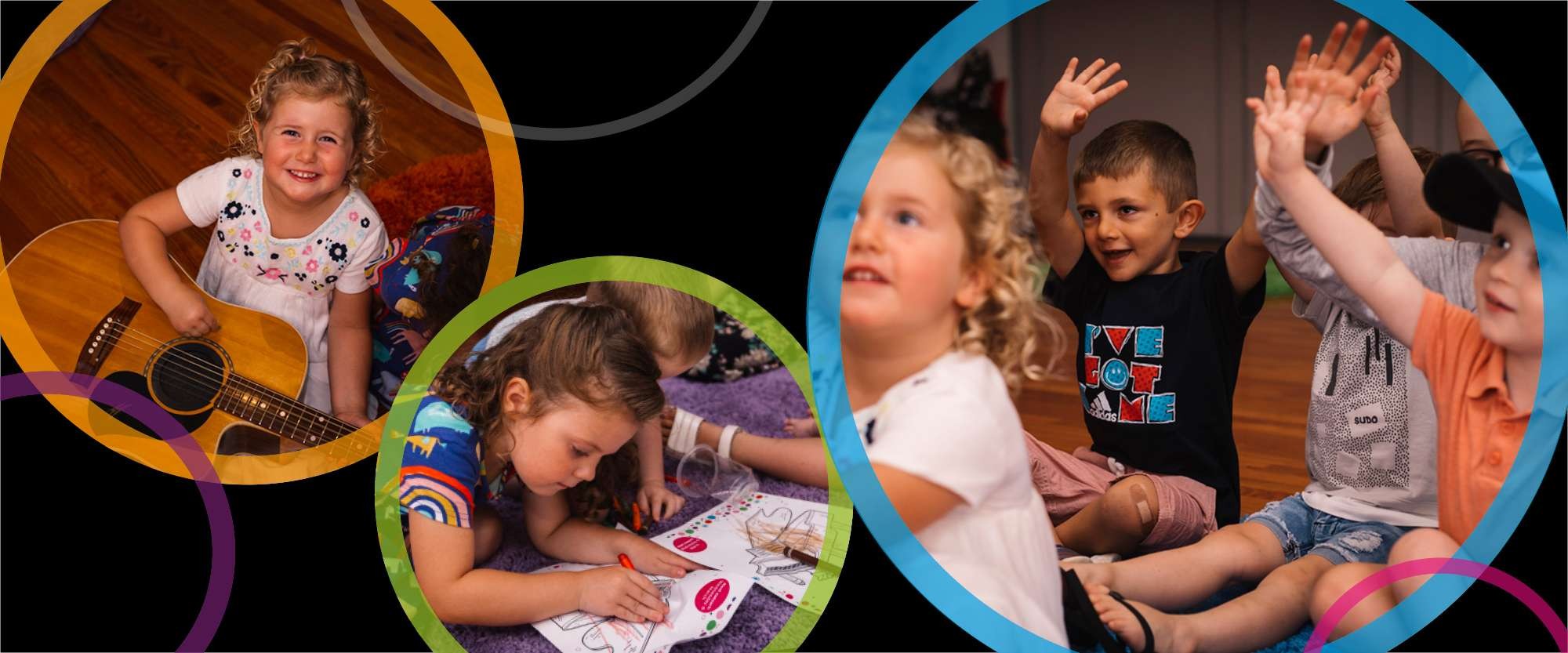 Riverlinks is committed to the development of performing arts programs and participation locally. We believe our local students have the right to enjoy the highest quality theatre, music, dance and to experience live theatre here in Greater Shepparton.
Creative, hands-on arts experiences are the very best way to give young minds the adventures they crave!
Upcoming Educational Shows
Preschool
CUSHION CONCERTS
Date: Tuesday 20 June, Thursday 21 September, Wednesday 8 November
Time: 10:30am
Duration: 30 minutes (no interval)
Cost: $6.00 per child, accompanying adult free. Everyone attending needs a ticket.
Venue: Riverlinks Eastbank
Cushion Concerts are a relaxed and inexpensive introduction to music and performance for all ages.
Best of all they are an avenue for some of the region's talent to perform without the pressure of being on the 'big stage'.
Our Cushion Concerts are held in the Function Rooms at Eastbank amongst beautifully plush rugs for children to sit or lie on. The flat floor set up is perfect for access with prams, making it ideal for mums groups, grandparents, families, preschools and anyone who likes to support locally grown talent.
Ages: Newborn - 5 years and their adults.
Primary School
JUST LIVE ON STAGE!
Date: Wednesday 30 August
Time: 10:30am and 1:00pm
Duration: 55 minutes (no interval)
Cost: $11.00
Venue: Riverlinks Westside
Every year Andy's school holds a short story competition and every year Andy writes an awesome, amazing, captivating, TERRIFYING story. But every year Andy is robbed of winning, thwarted by some dumb story about kittens and sunshine. How is that possible?
With the help of his best friend Danny, the love of his life Lisa, his somewhat trusty dog Sooty and lifetime of crazy, shocking, doomed, stupid and just plain DISGUSTING experiences, Andy sets out on a night that will ensure a flawless victory.
JUST (tricking, annoying, stupid, crazy, disgusting, shocking, doomed) LIVE ON STAGE! brings Andy Griffiths story to life with everything from invisibility pills and Mudmen, to vomiting dogs and death defying balloons.
Ages: 8 - 12 years and their adults.
Audience warnings: includes loud fart noises, taking vegetables, a little bit of dog wee and a love story.
MSO SCHOOLS CONCERT
Date: Thursday 5 October
Time: 10:00am and 11:30am
Duration: 60 minutes (no interval)
Cost: $11.00
Venue: Riverlinks Eastbank
Join the Melbourne Symphony Orchestra in an exploration of Mendelssohn's Symphony No.4.
Be transported to the art, landscape and the people of Italy with Cybec Assistant Conductor Carlo Antonioli and presenter Karen Kyriakou.
Throughout this highly interactive concert, students will explore Mendelssohn's incredible work through active participation and listening whilst discovering the sights and sounds of the Orchestra.
Ages: 5 - 12 years and their adults.
School Bookings Enquiry Form
Please click here to read the Terms and Conditions before making a booking
We can't wait to receive your booking! Please complete all fields and submit this form.
* Fields marked with an asterisk are required.