School Visits
Expanding young minds with theatre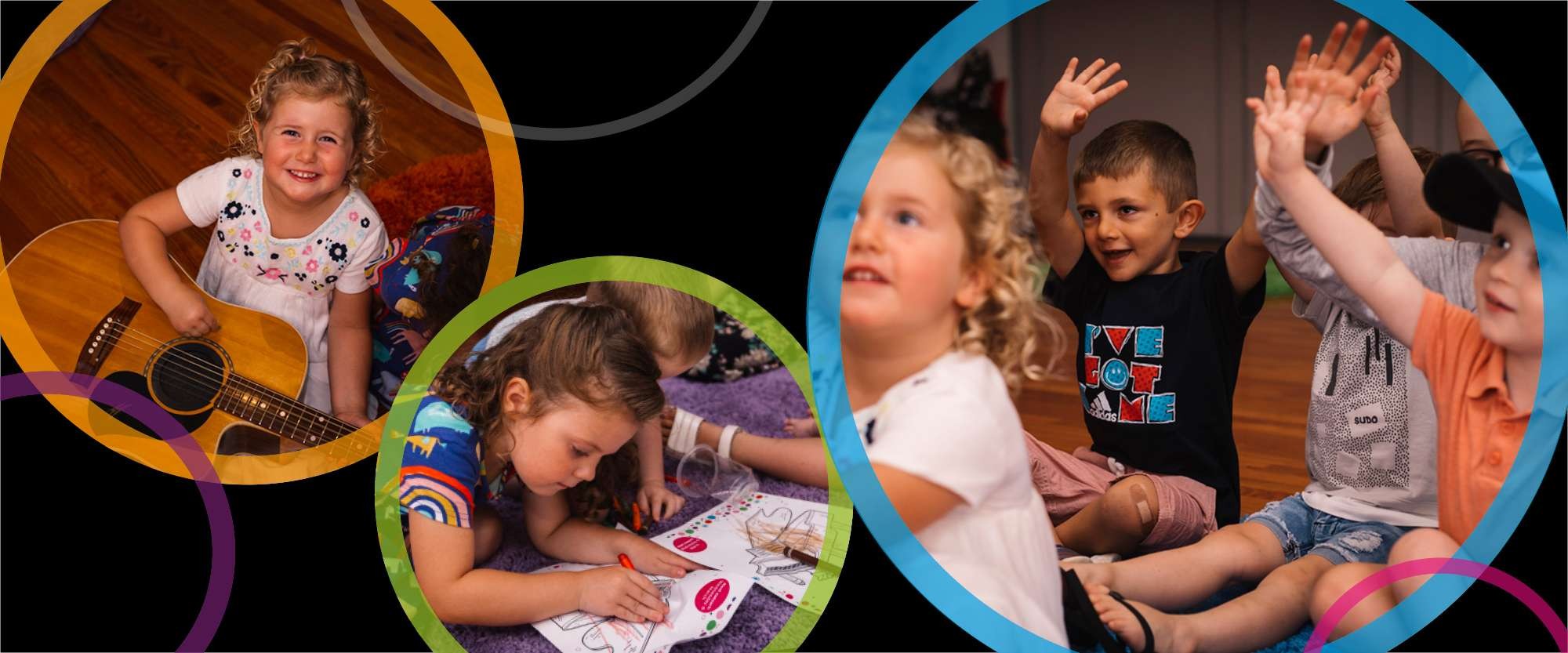 Riverlinks is committed to the development of performing arts programs and participation locally. We believe our local students have the right to enjoy the highest quality theatre, music, dance and to experience live theatre here in Greater Shepparton.
Creative, hands-on arts experiences are the very best way to give young minds the adventures they crave!
Upcoming Educational Shows
Preschool
Cushion Concerts
September Cushion Concert with DramaRama

Wednesday 21 September, 10.30am
Riverlinks Eastbank
November Cushion Concert with Greater Shepparton Secondary College Music Students

Thursday 10 November, 10.30am
Riverlinks Eastbank
Cushion Concerts are a relaxed and inexpensive introduction to music and performance for all ages.
Best of all they are an avenue for some of the region's talent to perform without the pressure of being on the 'big stage'.
Our Cushion Concerts are held in the Function Rooms at Eastbank amongst beautifully plush rugs for children to sit or lie on. The flat floor set up is perfect for access with prams, making it ideal for mums groups, grandparents, families, preschools and anyone who likes to support locally grown talent.
Ages: Newborn - 5 years and their adults (suitable for all ages).
Primary School
The Alphabet of Awesome Science
Wednesday 10 August, 10.30am
Riverlinks Eastbank
Join professors Lexi Con and Noel Edge (the Word Nerd and the Science Freak) for a thrilling voyage through the alphabet — where sesquipedalian words inspire mind-blowing scientific surprises!
It's a tongue-twisting race from A to Z that's equal parts explosive, messy, hilarious, fascinating and gross. Brace yourself for an hour of carefully crafted alphabetical, scientifical (award-winning!) chaos — that floats, flies, squirts, sprays, ignites and erupts!
Ages: 7 - 13 years and their adults.
Melbourne Symphony Orchestra Schools Concert
Wednesday 19 October, 10.00am and 11.30am
Riverlinks Eastbank
Program:
Beethoven Symphony No.5 (excerpts)
Featuring:
Carlo Antonioli conductor
Karen Kyriakou presenter
The Melbourne Symphony Orchestra and presenter/educator Karen Kyriakou invite primary-age students on a whirlwind, interactive musical adventure exploring the most famous four notes ever written in music...
DA DA DA DUMMMMM!
Where will they take you? Join Karen and the MSO to find out!
Ages: 5 - 12 years and their adults.
Secondary School
Jane Eyre
Wednesday 10 August, 7.30pm
Riverlinks Westside
Witness one of the most iconic pieces of English literature retold in a faithful yet fiercely original new stage adaption.
Following a childhood spent suffering at the hands of her cruel Aunt, Jane finds employment at Thornfield Hall - the impressive yet mysterious home of Edward Rochester.
As Jane and Rochester become inexplicably drawn to each other, the dark secrets locked within the walls of Thornfield start to unravel forcing Jane on a heart-wrenching journey toward truth and freedom.
Warnings: Contains adult themes, simulated violence and supernatural elements. Features strobe, loud music and fire/smoke/haze effects.
Ages: 15+ years.
Summer of the Seventeenth Doll
Friday 23 September, 7.30pm
Riverlinks Westside
For sixteen years two Queensland cane cutters have worked the punishing routine up north in the sugar cane fields for seven months of the year and travelled back to Melbourne for five months of partying and romance with their barmaid girlfriends.
This seventeenth summer everything is different. One of the barmaids has 'settled down' and married a city bloke, so a replacement date has had to be found.
This 'off-season' proves challenging for them all.
Warnings: Adult themes.
Ages: 15+ years.
Australian National Piano Award
Solo recitals
Monday 10 October - Thursday 13 October
1.00pm - 3.30pm
7.30pm - 10.30pm
Semi final
Friday 14 October
12.00pm - 5.00pm
The Australian National Piano Award showcases some of Australia's most brilliant emerging classical pianists.
Open to Australian and Australian-based pianists aged 21 to 35 years, the Award embodies the highest national and international music standards and recognises the pursuit of professional excellence, technical brilliance and extraordinary flair.
Over a week of solo recitals at Riverlinks Eastbank, selected pianists will strive to win over $65,000 in prize money and perform impressive classical masterpieces by Bach, Haydn, Schubert, Mozart, Beethoven and many other composers.
Repertoires throughout the inspirational recital series will feature music from the Baroque, Classical, 19th Century Romantic and French Impressionist eras, as well as music written after 1950, including works by Australian composers.
Tickets to Award solo recitals and semi final are free to secondary school students.
Teachers can enquire directly with the Award via email info@australianpianoaward.com.au or mobile 0438 532 621
Audience guidelines: Audiences should acknowledge that the Award is a competition and respectfully remain quiet throughout all Award finalist performances during the solo recitals, semi final and grand final. Patrons will not be admitted into the auditorium during the performances. All pagers, alarms, mobiles and digital devices should be turned off. During performances, none of the Award finalists may be photographed or recorded (apart from engaged contractors who have Award approval).
School Bookings Enquiry Form
Please click here to read the Terms and Conditions before making a booking
We can't wait to receive your booking! Please complete all fields and submit this form.
* Fields marked with an asterisk are required.