School Visits
Expanding young minds with theatre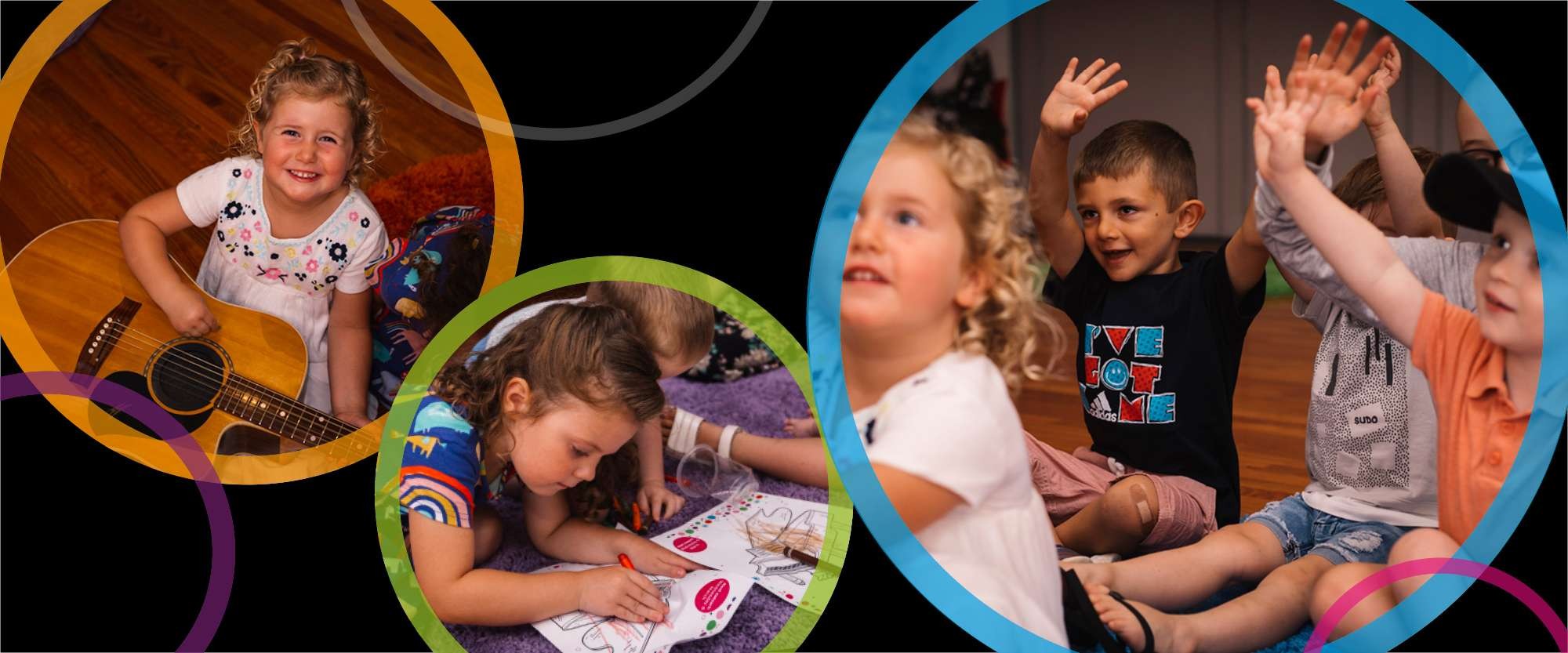 Riverlinks is committed to the development of performing arts programs and participation locally. We believe our local students have the right to enjoy the highest quality theatre, music, dance and to experience live theatre here in Greater Shepparton.
Creative, hands-on arts experiences are the very best way to give young minds the adventures they crave!
Upcoming Educational Shows
Preschool
Cushion Concerts
March Cushion Concert with Chirpee Kids

Wednesday 2 March, 10.30am
Riverlinks Eastbank
June Cushion Concert with Monkey and Baggles

Thursday 23 June, 10.30am
Riverlinks Eastbank
September Cushion Concert with DramaRama

Wednesday 21 September, 10.30am
Riverlinks Eastbank
November Cushion Concert with Greater Shepparton Secondary College Music Students

Thursday 10 November, 10.30am
Riverlinks Eastbank
Cushion Concerts are a relaxed and inexpensive introduction to music and performance for all ages.
Best of all they are an avenue for some of the region's talent to perform without the pressure of being on the 'big stage'.
Our Cushion Concerts are held in the Function Rooms at Eastbank amongst beautifully plush rugs for children to sit or lie on. The flat floor set up is perfect for access with prams, making it ideal for mums groups, grandparents, families, preschools and anyone who likes to support locally grown talent.
Ages: Newborn - 5 years and their adults (suitable for all ages).
Primary School
The 13-Storey Treehouse
Thursday 31 March, 10.30am and 1.00pm
Riverlinks Eastbank
Would you please welcome to the stage... Andy and Terry!
Yes that's right. Today's the day Andy and Terry are going to bring their stories to life in their first EVER play – except they forgot to write it!
Where will they find flying cats, a mermaid, a sea monster, an invasion of monkeys, and a giant gorilla?
Following sold out seasons across the country, the one and only, super famous, ultra-brilliant, runaway success The 13-Storey Treehouse returns to the stage!
Ages: 6 - 12 and their adults.
Guess How Much I Love You
Friday 20 May, 10.30am and 1.00pm
Riverlinks Eastbank
"I love you right up to the moon - AND BACK."
Join the enchanting adventure of Little and Big Nutbrown Hare as they discover the magic and colour of the seasons, in a dazzling new stage adaptation of Sam McBratney's beloved Guess How Much I Love You books.
This playful story of love and nature unfolds on stage in a show that's fun for the whole family, with beautiful puppetry, music and laughter.
Ages: 3+ and their adults.
Wolfgang's Magical Musical Circus
Wednesday 22 June, 10.30am
Riverlinks Eastbank
Straight from the score and onto the stage, the man known as Mozart appears amid a storm of powder, tumbling and twirling, as musical mayhem and movement fuse in this family show with a circus twist.
Designed to amaze people from the age of three and upwards, Wolfgang's Magical Musical Circus reinvents the composer's magical music in a skillful and illuminating show featuring Circa's dexterous daredevil artists and a live accordionist. Watch as the notes are physically lifted off the page as performers bring the renowned compositions to life amidst a storm of powder, tumbles and crashes, all under the eccentric swirl of the conductor's baton.
Ages: 3+ and their adults.
The Alphabet of Awesome Science
Wednesday 10 August, 10.30am
Riverlinks Eastbank
Join professors Lexi Con and Noel Edge (the Word Nerd and the Science Freak) for a thrilling voyage through the alphabet — where sesquipedalian words inspire mind-blowing scientific surprises!
It's a tongue-twisting race from A to Z that's equal parts explosive, messy, hilarious, fascinating and gross. Brace yourself for an hour of carefully crafted alphabetical, scientifical (award-winning!) chaos — that floats, flies, squirts, sprays, ignites and erupts!
Ages: 7 - 13 years and their adults.
Melbourne Symphony Orchestra Schools Concert
Wednesday 19 October, 10.00am and 11.30am
Riverlinks Eastbank
Program:
Beethoven Symphony No.5 (excerpts)
Featuring:
Carlo Antonioli conductor
Karen Kyriakou presenter
The Melbourne Symphony Orchestra and presenter/educator Karen Kyriakou invite primary-age students on a whirlwind, interactive musical adventure exploring the most famous four notes ever written in music...
DA DA DA DUMMMMM!
Where will they take you? Join Karen and the MSO to find out!
Ages: 5 - 12 years and their adults.
Secondary School
Become the One
Wednesday 23 March, 7.30pm
Riverlinks Westside
What would you do for love?
When Noah captures the attention of Tom, a celebrated AFL player nearing the end of his career, sparks immediately fly.
But as the season progresses and their relationship grows, questions around identity, agency and our devotion to hyper masculinity begin to surface, forcing us to consider what happens to love when good intentions and patience aren't enough anymore.
Warnings: Adult themes, Some Coarse Language, MA15+.
Ages: 15+ years.
Hearth
Tuesday 7 June, 7.30pm
Riverlinks Westside
It's the 7th of February 2009 - forever known in Australia's history as 'Black Saturday.' It's also Tom Robinson's 18th Birthday. But tensions start to rise between Tom and his older brother Matthew, along with the temperature outside, and before the ice-cream cake has time to melt a deeply held family secret is revealed.
Featuring a stellar ensemble cast this compelling new drama is guaranteed to not only be a thought-provoking night at the theatre, but also an extremely enjoyable one.
Warnings: Contains some coarse language, references to violence, sexual references and references to bushfires.
Ages: 16+ years.
Jane Eyre
Wednesday 10 August, 7.30pm
Riverlinks Westside
Witness one of the most iconic pieces of English literature retold in a faithful yet fiercely original new stage adaption.
Following a childhood spent suffering at the hands of her cruel Aunt, Jane finds employment at Thornfield Hall - the impressive yet mysterious home of Edward Rochester.
As Jane and Rochester become inexplicably drawn to each other, the dark secrets locked within the walls of Thornfield start to unravel forcing Jane on a heart-wrenching journey toward truth and freedom.
Warnings: Contains adult themes, simulated violence and supernatural elements. Features strobe, loud music and fire/smoke/haze effects.
Ages: 15+ years.
Summer of the Seventeenth Doll
Friday 23 September, 7.30pm
Riverlinks Westside
For sixteen years two Queensland cane cutters have worked the punishing routine up north in the sugar cane fields for seven months of the year and travelled back to Melbourne for five months of partying and romance with their barmaid girlfriends.
This seventeenth summer everything is different. One of the barmaids has 'settled down' and married a city bloke, so a replacement date has had to be found.
This 'off-season' proves challenging for them all.
Warnings: Adult themes.
Ages: 15+ years.
School Bookings Enquiry Form
Please click here to read the Terms and Conditions before making a booking
We can't wait to receive your booking! Please complete all fields and submit this form.
* Fields marked with an asterisk are required.