This performance has recently been rescheduled from a different date/time. Please check the details below, or contact the box office if you require further information.
The Robertson Brothers 1960s Variety TV Show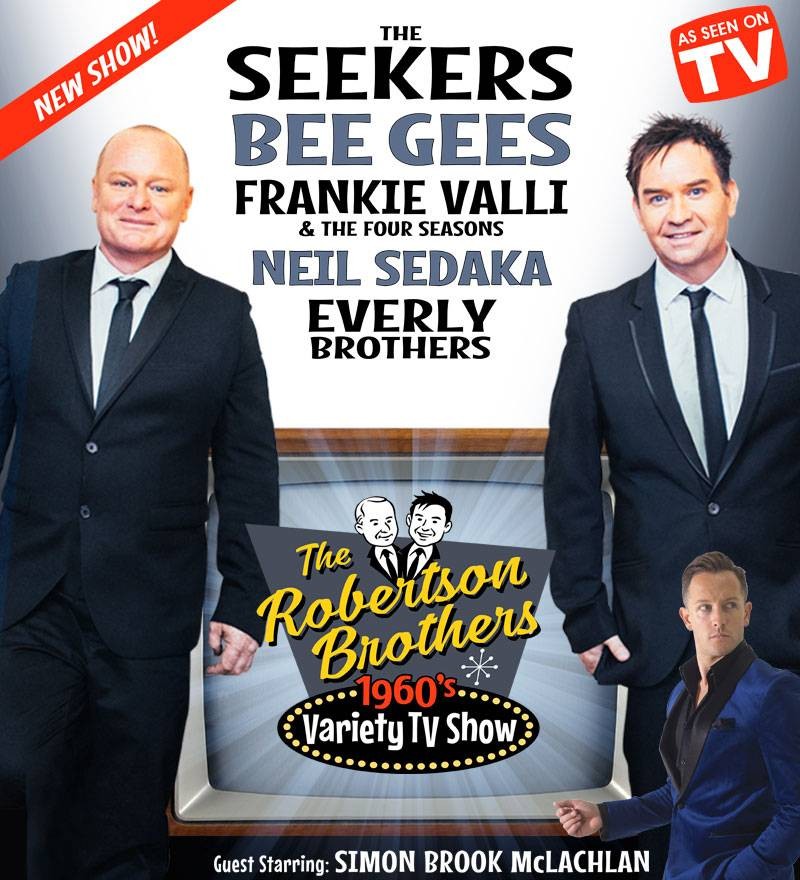 When

Thursday 17th of March, 2022,

at

7:30pm

Where

Riverlinks Eastbank - 70 Welsford Street, Shepparton
See Map

Cost

Full $69.00
Concession $65.00
Riverlinks Member $65.00
Group (10+) $65.00
Student $65.00
Child $65.00
Learn about Membership Benefits

Contact

Riverlinks Box Office: 03 5832 9511
NEW DATE: The Robertson Brothers show on Sunday 18 July has been rescheduled to the new date of Thursday 17 March 2022
Well don't miss The Robertson Brothers 1960s TV Variety Show with special guest Simon Brook McLachlan, from the original cast of the hit musical Jersey Boys.
Take a trip down memory lane with this amazing interactive live TV Variety Show featuring the hits from The Seekers, Bee Gees, Frankie Valli and The Four Seasons, Neil Sedaka and The Everly Brothers!
The Robertson Brothers grew up in a home that appreciated the Variety TV Show. When designing this new live touring show they decided to reinvent the magic and diversity of the old school 1960s Variety TV shows.
With a rockin' live band and an amazing multimedia presentation, expect to be entertained by many of the Classic Hits from the 60s. Through the prism of the Variety TV show format you'll travel back in time to embrace and celebrate the hits of these 60s music legends.
You'll be singing, dancing, laughing and crying to Georgy Girl, Morningtown Ride, I'll Never Find Another You, Oh Carol, Big Girls Don't Cry and many more in this celebration of your favourite 60s Superstars!
Book your pre-show meal today
You can now book your pre-show meal with Encore Café. No need to decide what you feel like in advance, simply reserve your seat in the café and arrive an hour before the show. On the night you can choose your meal and pay direct at the café.
Riverlinks Eastbank
70 Welsford St, Shepparton