This performance has recently been rescheduled from a different date/time. Please check the details below, or contact the box office if you require further information.
Sales for this performance have been temporarily suspended. Apologies for the inconvenience.
TEG Dainty & Nice Events

present

Sooshi Mango Off the Boat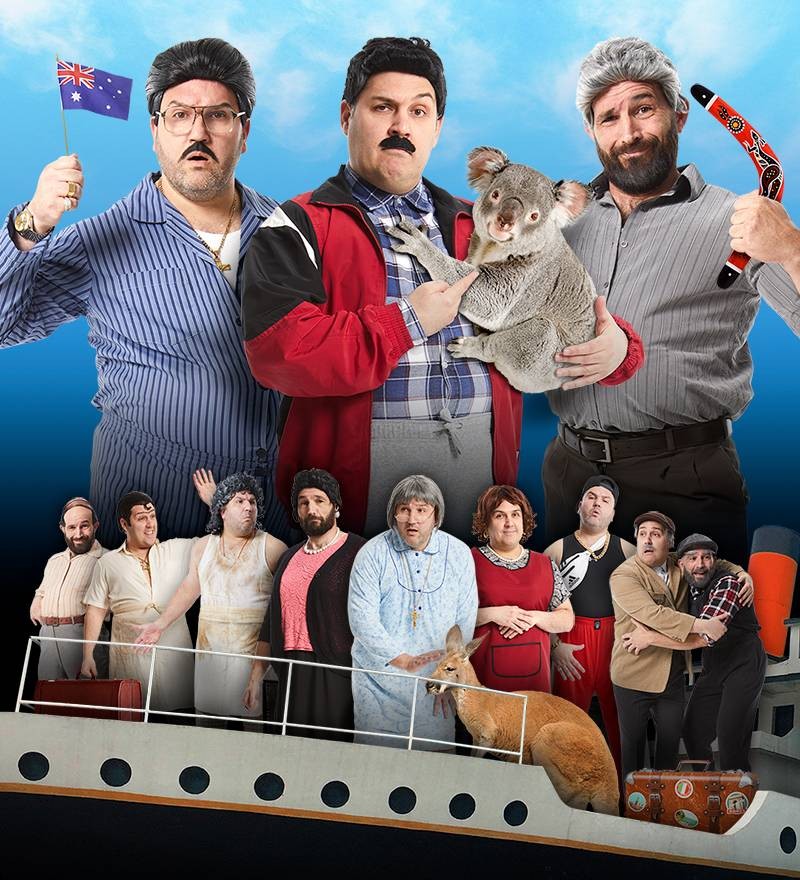 When

Saturday 23rd of April, 2022,

Where

Riverlinks Eastbank - 70 Welsford Street, Shepparton
See Map

Cost

Ticket sales will resume 10am Monday 31 January 2022.
VIP $190.00
Price Level 1 $90.00
Price Level 2 $75.00
Price Level 3 $60.00

Contact

Riverlinks Box Office: 03 5832 9511
RESCHEDULED & TICKET SALES SUSPENDED: The performances of Sooshi Mango on Friday 24 September 2021 have been postponed until Saturday 23 April 2022. The Box Office are contacting ticket holders.
TICKET SALES ARE CURRENTLY SUSPENDED:
Ticket sales are currently suspended, and will return to sale at 10am Monday 31 January 2022.
Performances:
Saturday 23 April 2022, 6.00pm
Saturday 23 April 2022, 9.30pm
After a completely sold-out 2019 tour, the outrageously funny Sooshi Mango are back with a brand-new live show! Sooshi Mango: OFF THE BOAT will hit the Riverlinks Eastbank stage.
New dates have been added nationally to cater for huge demand and, in a huge feat, the group will be the first-ever Australian comedy act to do multiple shows at Melbourne's Rod Laver Arena.
Sooshi Mango are an Australian comedy troupe made up of brothers Joe and Carlo Salanitri and their close friend Andrew Manfre. The trio's rise in Australian comedy has been nothing short of meteoric, with their viral online videos amassing over 120 million views and counting. Their characters — most notably ethnic mums and dads — have made their way from video skits in their parents' garages, to television screens across the country and stages around the world.
Sooshi Mango's humour transcends cultures and borders, and their content is wildly popular with people of all backgrounds. Proud Italian Australians, their comedy is inspired by their parents and the older generation and they are happy to be able to shine a light on their heritage.
The Melbourne boys, who have taken the internet and the world by storm, are set to bring the house down once more with their all-new two-hour show comprising of trademark skits and hilarious musical numbers. Don't miss your chance to experience one of Australia's funniest comedy acts live on stage!
VIP TICKET INFORMATION
VIP tickets are limited, and include a Meet and Greet and photo opportunity (with your own camera/phone) prior to the 6pm show and after the 9.30pm show. Details will be provided to VIP ticket holders closer to the event.
"As an entertainer I am so grateful to our fans for giving us the opportunity to perform at this level. We are honoured fly the banner for all immigrants that came to this great country in search of a better life. Can't wait to hear the roaring laughs and smell the garlic breath in the air." Andrew Manfre
"From what we know there have only been a small number of comedy acts that have performed at Rod Laver. Apparently, we will be the second Australian comedy act and the first ever Melburnian comedy act to have performed at this iconic arena. That makes me feel really proud and it's crazy to think 3 idiots like us who started shooting vids in a car have ended up here. It's truly humbling." Carlo Salanitri
"From the car to theatres, and now to Rod Laver Arena and Qudos Bank Arena! This is when someone usually wakes you up right!! Because stuff like this has only every happened in my dreams!! I am forever grateful for everyone that has helped this dream become a reality!" Joe Salanitri
Riverlinks Eastbank
70 Welsford St, Shepparton