Current Drawing Wall
The Drawing Wall is an ongoing series of commissioned, temporary, site specific wall based drawings or installations that enliven the foyer space of Riverlinks Eastbank, directly outside the Shepparton Art Museum.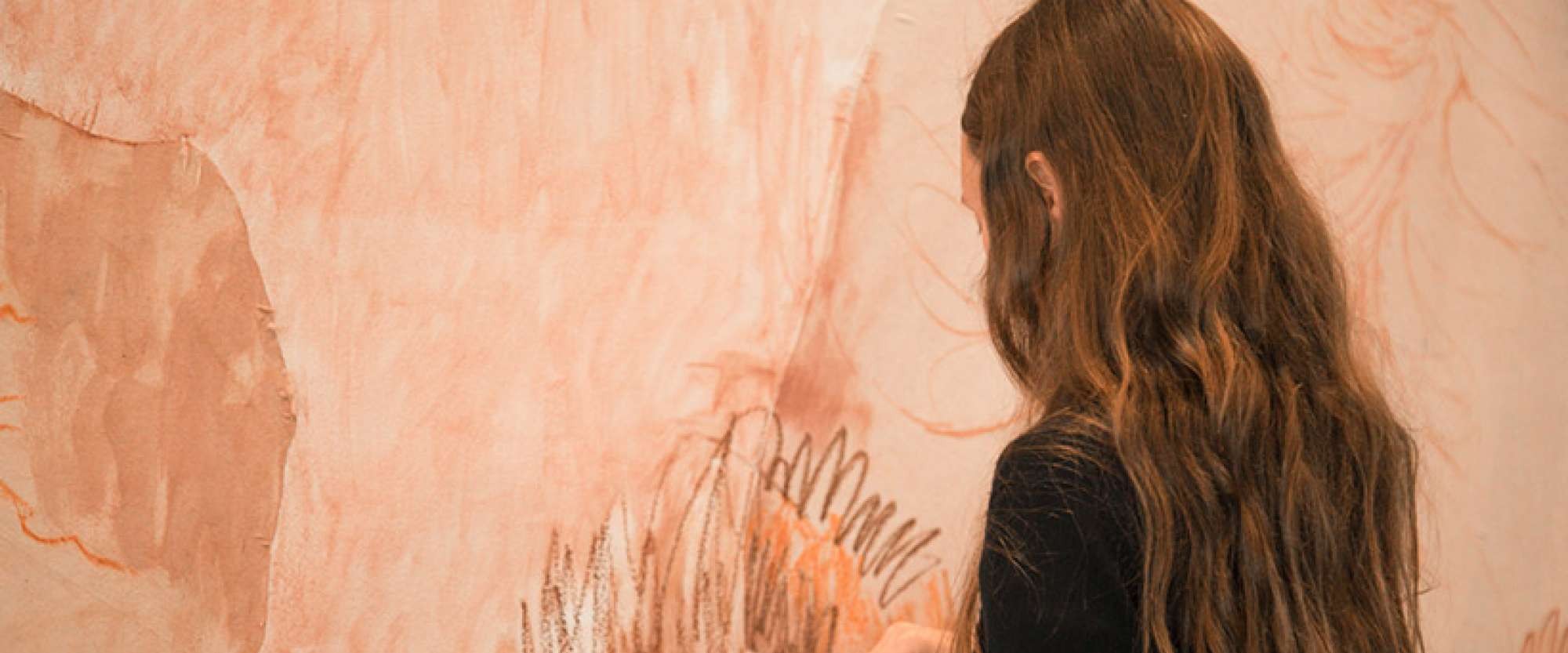 Drawing Wall projects often revolve around conversations and collaborations, and provide members of the public an opportunity to interact with the artists during installation.
Each year four artists are commissioned to produce new work across the 4 x 12m space.
Currently Featured
SAM Drawing Wall #38
Jahnne Pasco-White
Exhibition Dates: 12 June - 5 August 2020
Jahnne Pasco-White is an artist currently living and working on Dja Dja Wurrung land and waters, or Chewton, Victoria. She often works with the re-purposing of previous works, and incorporating organic materials and pigments drawn from natural matter alongside the traditional medium of acrylic paint.
Pasco-White's Drawing Wall Becoming-other, responds to the environment of Greater Shepparton and the agricultural and aqua industries. She has sourced waste-product fruit from local suburban areas and independent fruit and vegetable farmers to extract natural dyes and pigments for use in the artwork. Using organic materials against those traditionally identified with art making, such as acrylic paint, results in swathes of rich colour and texture.
Pasco-White completed a Bachelor of Fine Art, Honours (First Class) Victorian College of the Arts in 2015. Her work is held in the Bendigo Art Gallery collection, as the recipient of the 2019 Arthur Guy Memorial Painting Prize. She was the recipient of a 2018 Art Gallery of New South Wales' Moya Dyring Memorial Studio scholarship at the Cité Internationale des Arts in Paris and was awarded a Martin Bequest Travelling Scholarship for Painting (2018-20).
Jahnne Pasco-White is represented by Station Gallery.