Current Drawing Wall
The Drawing Wall is an ongoing series of commissioned, temporary, site specific wall based drawings or installations that enliven the foyer space of Riverlinks Eastbank, directly outside the Shepparton Art Museum.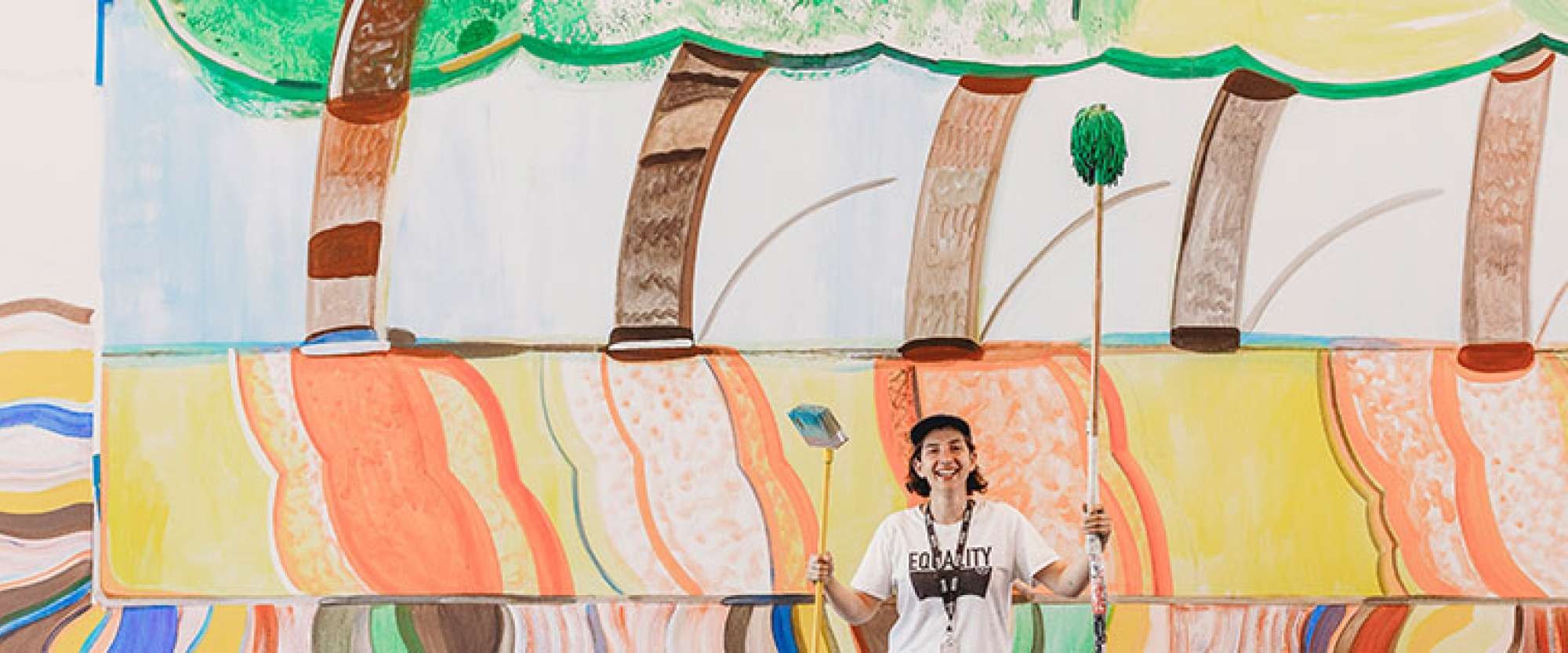 Drawing Wall projects often revolve around conversations and collaborations, and provide members of the public an opportunity to interact with the artists during installation.
Each year four artists are commissioned to produce new work across the 4 x 12m space.
Currently Featured
Drawing Wall #37 - Emily Ferretti
"ON MY WAY"
On my way is a painting that describes travelling through landscape. There is a repetitive nature to the work that mimics the feeling of moving past the environment at speed. Tree trunks feel like they bend as you move past them rhythmically like a beat of a drum.
"When thinking about the rural nature of Shepparton I kept on thinking about my time growing up in the country and the freedom I felt once I could drive. I wanted to make an image that represents that freedom but also captures my observations of the landscape when moving past it," explains Ferretti.
Using acrylic paints, Ferretti creates a piece using rollers, brushes, and mops which have been altered, to create texture and marks that enhance the feeling of this movement.
A Melbourne based painter, Ferretti grew up in country Victoria and graduated with a Bachelor of Fine Arts (Honours) at the Victorian College of the Arts in 2006.
Dedicated to a full-time studio practice over the past fifteen years, her works often depict rural, landscape and domestic scenes. Ferretti has exhibited widely and undertaken studio residences including Gertrude Contemporary, Melbourne, Cite de Arts International, Paris, and Green Street, New York. Emily Ferretti is represented by Sophie Gannon Gallery, Melbourne.