The Harbour Agency

presents

Herman's Hermits
The 6 O'Clock Hop Tour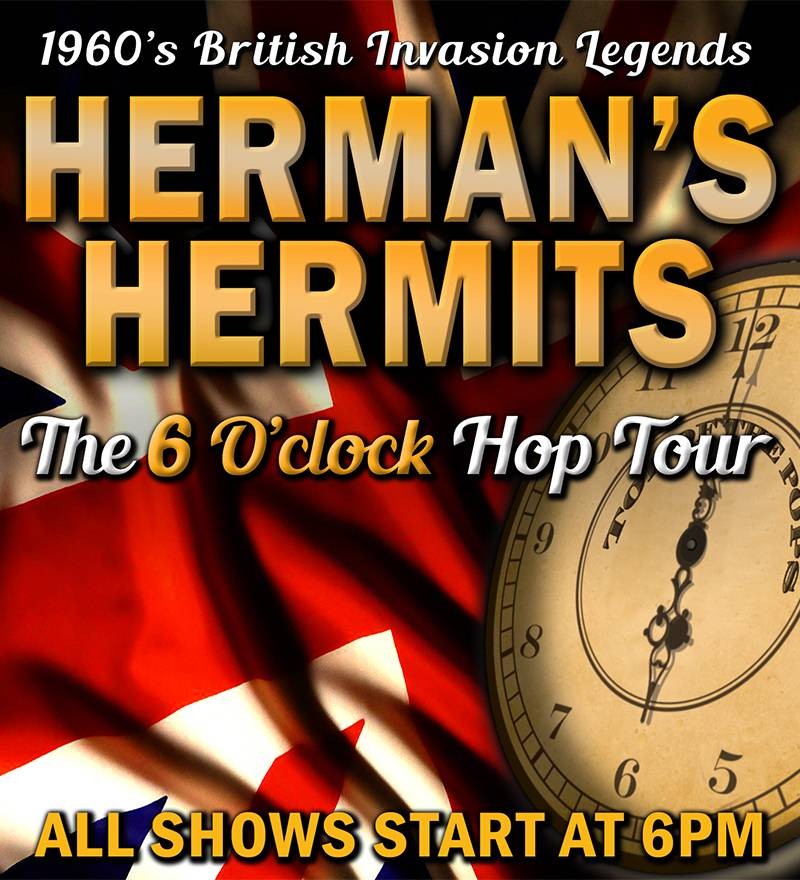 Please note: this is a past event
We're keeping this page here for future reference.
When

Tuesday 4th of September, 2018,

at

6:00pm

Where

Riverlinks WestSide - Echuca Road, Mooroopna
See Map

Cost

Full $65.00
Concession $55.00

Contact

Riverlinks Box Office: 03 5832 9511
Enjoy songs from one of the biggest groups out of the UK!
When the 1960's British Invasion hit worldwide, Herman's Hermits were one of the biggest groups out of the UK. Their Australian No. 1 hits, Mrs Brown You've Got a Lovely Daughter and No Milk Today made the group one of the most popular groups of the day here in Australia. The No. 1's were followed up by 8 more Top 10 Hits including I'm Henry VIII, There's a Kind of Hush, A Must to Avoid, Silhouettes and many more songs that cracked the top 20.
The concept of the 6 O'Clock Hop is to put the show on at a more convenient time in the winter months of August and September at 6pm, where audience members are encouraged to get an early dinner and enjoy a 2 hour show packed full of hits, in the knowledge they'll be safely home at a reasonable time. Promoter Layton Lillas of Showcase Entertainment Group explains 'An 8pm show start can mean by the time you watch the show, leave the theatre and drive home, it could be midnight. In winter, we feel people would rather come and enjoy a night out without it being too late.'
Herman's Hermits first toured Australia in 1966 on the 'Caravan of Stars 66' tour with Tom Jones in support. Since 1971 and the depature of Peter Noone to persue a solo career in the music business, the group has never stopped. Original member Barry Whitwam has guided the band from strength to strength into one of the hardest working acts in the business - they still average more than 200 concerts per year. "It's all about the songs", Whitwam says, "and we were very lucky to have had a lot of hits in the sixities that people still want to hear today. We're very lucky!
The 2018 World Tour for the band includes a comprehensive UK and European tour before they head down-under for the 6 O'Clock Hop!
Riverlinks Westside
Echuca Road, Mooroopna