Happy Days Records

presents

The Class of 59
The Rock N' Roll Circus Tour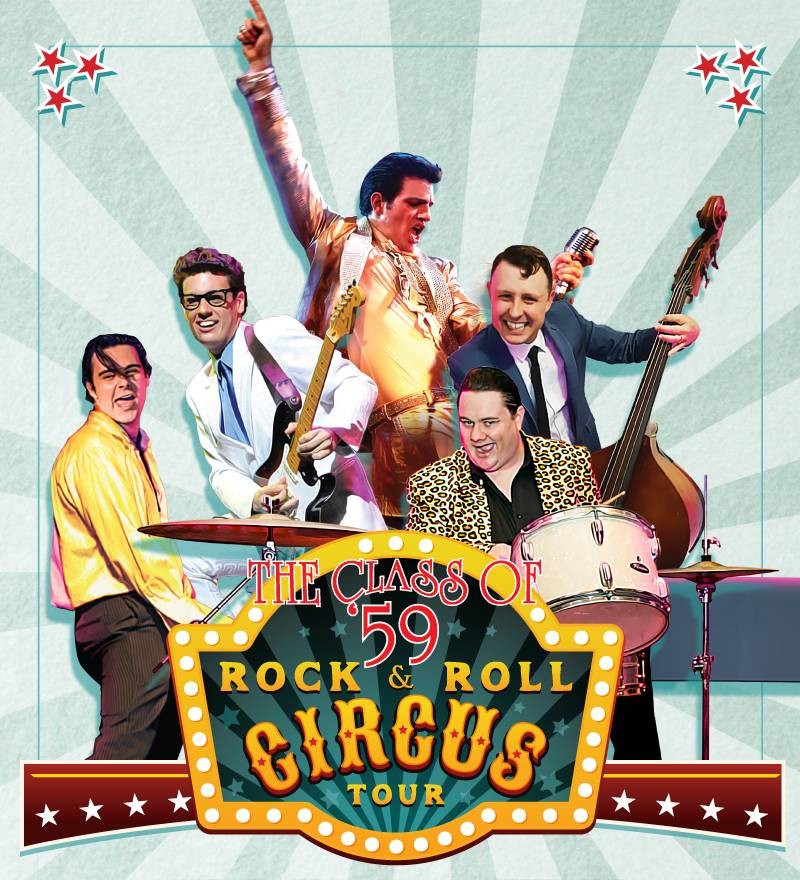 Please note: this is a past event
We're keeping this page here for future reference.
When

Saturday 29th of June, 2019,

at

7:30pm

Where

Riverlinks Eastbank - 70 Welsford Street, Shepparton
See Map

Cost

Full $65.00
Concession $60.00

Contact

Riverlinks Box Office: 03 5832 9511
A guaranteed foot tapping, head bopping, fantastic Rock N' Roll show for all!
The Rock N' Roll Circus Tour rolls into Australia in 2019, featuring a two hour concert production that assembles a band to celebrate the talent, the hits and the legacies of the original stars of Rock N' Roll - Elvis Presley, Buddy Holly, Bill Haley, Jerry Lee Lewis and the Big Bopper.
Starring Scott "Buddy" Cameron as Buddy Holly, Anthony Petrucci as Elvis Presley, Matty Breen as Jerry Lee Lewis, James Nation-Ingle as Bill Haley and Simon O'Connor as The Big Bopper.
Scott "Buddy" Cameron is no stranger to portraying Buddy Holly having done so for well over a decade to many rapturous crowds. Scott is one of the most recognised Buddy Holly performers in the world receiving rave reviews for his portrayal of the 50's legend in the International smash hit musical Buddy: The Buddy Holly Story in productions staged from 2005 through to 2009 and, to this day, continues to don the trademark horn-rimmed glasses, the ever so engaging and charismatic figure and a lilting vocal hiccup in many other concert productions. He is recognised by Members of Holly's own family and the "Peggy Sue" as being the closest thing today to the legend of Holly.
Having been crowned the Ultimate Elvis Presley Tribute at the 2018 Parkes Elvis Festival, Anthony Petrucci, has been a keen fan of The King since childhood. At the age of 20, he made his first national television appearance on what was one of the biggest, most prestigious talent contests, Channel 9's Star Struck. Portraying his idol, Elvis Presley, Anthony captured the hearts of Australian viewers and went on to win the competition allowing him to perform in the world famous Legends In Concert show at the Imperial Palace in fabulous Las Vegas, appearing as the youngest Elvis ever. Anthony also had the opportunity to perform in the birthplace town of Elvis Presley, Tupelo, Mississippi, at the Lyric Theatre.
Hail, hail, Rock N' Roll … we welcome you to step back to the era that created music legends and influenced a formidable culture, paying homage to a catalogue where their songs are timeless, their hits are endless, and their flair is never forgotten. Guaranteeing a foot tapping, head bopping fantastic Rock N' Roll show for all, come lose yourself in the show and the music that will have you swinging in the aisles and jiving the night away! Come and take the journey back to the Class of 59!
Introducing the band...
ELVIS PRESLEY – Launching the Rock N' Roll revolution with his commanding voice and charismatic stage presence, we'll re-live Presley's string of hits that captivated and liberated the teenage audience of the 50's including Don't Be Cruel, Hound Dog, Love Me Tender, All Shook Up and Jailhouse Rock.
BUDDY HOLLY – Pioneering Rock N' Roll in the 50's with his trademark horn-rimmed glasses and the ever so engaging and charismatic figure with his vocal hiccup spanning a career that lasted only two short years, but brought with it a wealth of material that made a lasting impact including That'll Be The Day, Peggy Sue, Oh Boy!, Maybe Baby and Rave On. 2019 marks 60 years since Holly's death.
BILL HALEY – Labeled as "the father of Rock N' Roll" and credited by many with first popularizing Rock N' Roll in the early 1950s with his group Bill Haley and the Comets and their hit song Rock Around The Clock - an anthem for rebellious fifties youth that changed the face of Rock N' Roll – Haley, for most of the Fifties, was a presence on the record charts with hits including See You Later, Alligator, R.O.C.K., The Saints Rock 'n' Roll, Rip It Up, Rudy's Rock and Skinny Minnie.
JERRY LEE LEWIS – Jerry Lee Lewis came to fame in 1957 and dubbed the wild man of Rock N' Roll, embodying its most reckless and high-spirited impulses. Jerry Lee Lewis is on such piano-pounding rockers from the late Fifties as Whole Lotta Shakin' Goin' On, Great Balls of Fire, and Crazy Arms.
THE BIG BOPPER – Jiles Perry "J.P." Richardson Jr. – also known as The Big Bopper – possessed a rockabilly charisma that made him an early Rock N' Roll standout. Best known for his 1958 Chantilly Lace, The Big Bopper perished in a plane crash in a snow-covered Iowa field in 1959 along with Buddy Holly and Ritchie Valens.
BOOK YOUR PRESHOW MEAL TODAY
You can now book your pre show meal with Eastbank Cafe. No need to decide what you feel like in advance, simply reserve your seat in the cafe and arrive an hour before the show. On the night you can choose your meal and pay direct at the cafe.
Riverlinks Eastbank
70 Welsford St, Shepparton