BBCS, Andrew Kay & QPAC

Present

Bluey's Big Play
The Stage Show Australian Tour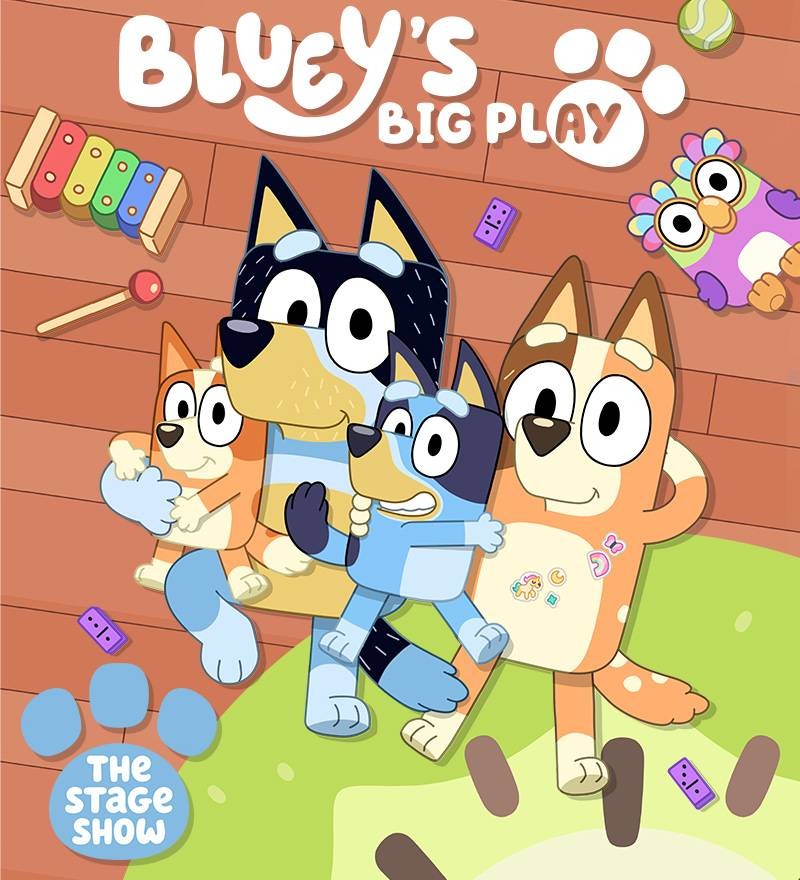 When

Saturday 24th of July, 2021,

Where

Riverlinks Eastbank - 70 Welsford Street, Shepparton
See Map

Cost

Full $45.90
Riverlinks Member $41.90
Group (4+) $41.90
Learn about Membership Benefits

Contact

Riverlinks Box Office: 03 5832 9511
This is Bluey's Big Play! And it's really for real life!
TICKETING UPDATE
Cheese and crackers! It's been as stressful as a game of Keepy Uppy waiting to hear when Bluey's Big Play – The Stage Show  would be coming to Shepparton. We're as happy as Bandit with a takeaway spring roll to confirm that Bluey and her family will hit the Eastbank stage on Saturday 24 July 2021.
As you know from our previous communication with you, we were hopeful that this event could go ahead on Friday 5 February, however to ensure certainty for Bluey, the promoters have made the decision, to reschedule Bluey's Big Play to Saturday 24 July. We thank you for your patience as we work through the logistics of this move. 
Your tickets have been automatically transferred to the dates in the 'NEW RESCHEDULED DATE & TIME' section and are valid for the following shows:
Original Dates
Rescheduled Dates
NEW Rescheduled Dates
Date
Start Time
Date
Start Time
Date
Start Time
Sunday 1 November 2020
4.00pm
Friday 5 February 2021
4.00pm
Saturday 24 July 2021
3.30pm
6.00pm
6.00pm
6.00pm
We do understand that some of our patrons may wish to request a refund as you may be unable to attend your new performance date and time and in this case, please contact the Riverlinks Box Office on 03 5832 9511 by 26 February 2021 to request a full refund.
Normal refund policies shall apply to refunds requested after this date. If we don't hear from you by this date, we assume you will be able to attend.
We can't wait for Bluey's Big Play – The Stage Show to come to our venue. We reckon it will be even better that a family trip to Hammerbarn. Thank you for your patience as we all work within a changing environment.
Tickets for the 3.30pm performance have been suspended due to current COVID-19 restrictions. Tickets are limited for the 6.00pm performance.
BLUEY'S BIG PLAY - THE STAGE SHOW
See Bluey, Bingo, Mum and Dad as you've never seen them before… Join The Heelers in their first live theatre show created just for you with puppetry, live actors and iconic Australian sets. It's a little bit different and a little bit beautiful.
Bluey's Big Play is an original story written by Bluey's creator Joe Brumm with new music created by Brisbane's Beethoven and Bluey composer, Joff Bush. This is an experience you can only take home with you in your memory so please remember to bring that along with your tickets.
Children Under 18 Months Free.
Love,
The Bluey Team.
Riverlinks Eastbank
70 Welsford St, Shepparton